Winner of Leventhorpe Book of the Year 2019-2020
Back

Due to lockdown last term, we were unable to run the discussion afternoon and final vote for Leventhorpe's book of the year 2019-2020. After collecting in everyone's vote this term, we are delighted to announce that the winner is...
Lifeboat 12 by Susan Hood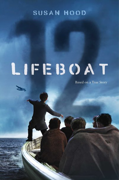 We have loads of copies of all 6 books in the library if students or staff are looking for a great read!
It was a fabulous shortlist this year (see below) and, despite having to cancel the final discussion afternoon in May, more than 80 students, across 8 schools have participated in this reading challenge. Please do congratulate those in Year 7 and Year 8 who dedicated hours of reading in their scrutiny of the shortlist.
2019-2020 shortlist:
Lifeboat by Susan Hood
Boy 87 by Ele Fountain
The Dog Runner by Bren Macdibble
Ghost Boys by Jewell Parker Rhodes
Amal Unbound by Aisha Saeed
Can You See Me? By Libby Scott & Rebecca Westcott